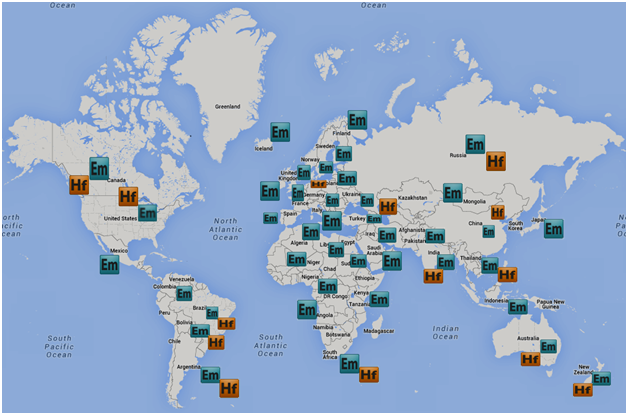 Today more than 500 universities around the world are working with EMWorks Inc. tools. EMS & HFWorks have been great tools for students, researchers and teachers all over the world.
EMWorks Inc cares about today's students by assisting and supporting them in their learning journey.  Today's students are tomorrow's engineers who will definitely make the world a better place.
EMS & HFWorks software are present in the top best ranked American universities.  EMWorks Inc. shares with students, researchers and professors their dreams, ambitions and successes.

University labs & Teaching Institutes using EMS & HFWorks Software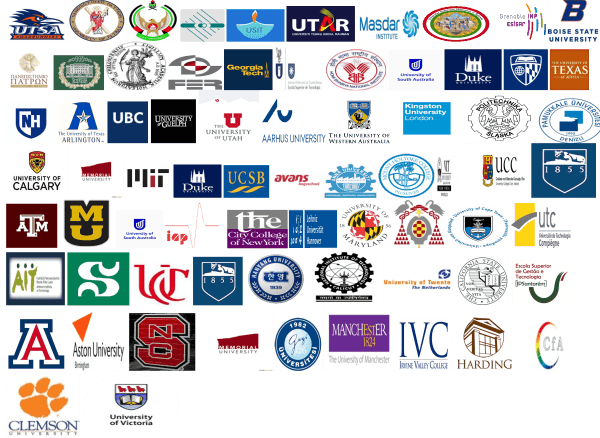 They are talking about us!
…A Lorentz force linear motion actuator was built to deliberately exhibit a highly nonlinear current for force relation even when the coil was completely immersed in the magnetic field. Magnets were arranged radically around the coil but only half the permissible number were included in order to generate a more complex actuator configuration to test the ability of the EMS electromagnetic finite element analysis software to handle more challenging magnetic path geometries. A detailed set of experiments were carried out on the actual actuator and a similar set of analyses were undertaken using the EMS magnetostatic electromagnetic finite element analysis software. EMS correctly accounted for the gross nonlinearities in the current to force measurements…

Ian Hunter: MIT
…We have heard about the EMWorks software as a result of searching for Finite Element Modeling (FEM) software which would be adequate for our purposes. After the review of various offers we stated that EMS has all features we need. The great advantage of this package is that it is based on SolidWorks. Thanks to this design of even very complex models becomes child's play. My first magnetostatic model in EMS was created in just a few minutes! I highly recommend EMWorks software for all those who need friendly interface as well as professional FEM software…"

Zbigniew Usarek: Gdansk University of Technology
The software has been very helpful so far, getting an idea of the linear magnetic flux density of various magnet configurations.  It is far superior in user friendliness than Ansys was. Sadly our old club computer is rather slow at running calculations, so we are trying to do more hand calculations to narrow down our options that we need to simulate. Overall, I'd say we're all very happy with the software".

Edwin Nowicki: University of Calgary

"Currently we are optimizing Pipeline Inspection Gauge (PIG) with Magnetic Flux Leakage (MFL) system to evaluate technical condition of pipelines. Such system consists of magnetizing yoke and magnetic field sensors. Working PIG can reach velocity of even 10 m/s due to liquid media pressure. Our job is to model effect of velocity on eddy currents generation and hence distortion of MFL signal.  "We'd just like to thank EMWorks for generously donating their electromagnetic simulation software to us. Now we can actually refine the finer points of our motor!"  "I used the AC Magnetics module within the EMS software to model electromagnetic coupling to a lab-scale molten metal charge.  This modeling was meant to investigate the efficiency and efficacy of inductive coupling as a means to heat and stir a metal solvent for a high temperature crystal growth process.  I found the software to be well integrated with SolidWorks, with intuitive menus and feature commands.  The array of parameters available for adjustment was quite broad; I was able to easily set up a good proxy for my actual experimental setup.  The ability to copy/paste an entire study in one step made it especially quick to vary parameters and compare results.EMS software represents a powerful and robust tool for anyone conducts research, design or development of systems involving electromagnetic."  

Paul Von Dollen: University of California

"The installation of EMS for Inventor is very easy; it also has a lot of analysis options. The interface is intuitive and clear. EMS for Inventor allows for fast and accurate linkage analysis in the field of electro-thermal and magnetic as for the design of highly complex projects is very useful. EMS saves time and avoids the problems associated with the transformation of files between different programs - in this way we gain time, which in the case of very complex analysis is priceless. The Support Team of EMWorks is very professional and very helpful - if an error is detected; the reaction and giving solution is very fast…"

Jaromir Koniarski: Silesian University of Technology