Description
Listening to FM radio while driving is one the most pleasant tasks that almost everybody has experienced. The FM broadcast band, by radio station, is not the same all over the world. In Europe and Africa (ITU region 1), it spans from 87.5 to 108.0 mega hertz (MHz), while in America (ITU region 2) it goes from 88.0 to 108.0 MHz; In Japan it uses 76.0 to 90 MHz. The OIRT band in Eastern Europe is from 65.8 to 74.0 MHz, although these countries now primarily use the 87.5 to 108 MHz band, as in the case of Russia. Some other countries have already discontinued the OIRT band and have changed to the 87.5 to 108 MHz band." In this study, a car antenna has been designed, simulated, and proved fully operational within all mentioned frequency bands. In this example, the performances of the antenna are assessed and described.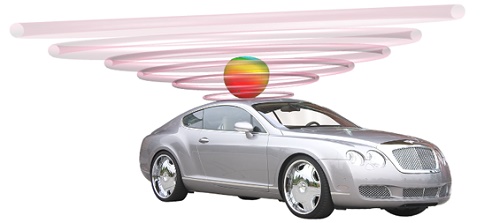 Figure 1 - FM radio antenna's radiation above a car
Simulation
Through this simulation, we should be able to get an approximate idea about the emission and reception properties of the designed car antenna and to what extent it is compatible with the mentioned multiple FM broadcast bands. The frequency plan used in this antenna simulation is fast sweep: the simulator tries to estimate the curves of the antenna parameters.
Load/ Restraint
The placement of the antenna (inside, outside the car, the relative position with regards to the BTS) are conditions. The port is applied to the Duroid 5880 small surface. Analogously to a coaxial cable, the outer surface is a treated as a PEC surface while the antenna's stem is assigned a signal boundary condition it.
Results
The following figure shows the electric field radiation pattern of the car antenna at 90 MHz. The pattern is similar to an omnidirectional antenna's and is the same for all Phi angles (i.e Theta = constant). We note that the smaller the angle's step is the smoother the plot gets: here we have a step of 15° for Phi and 10° for Theta.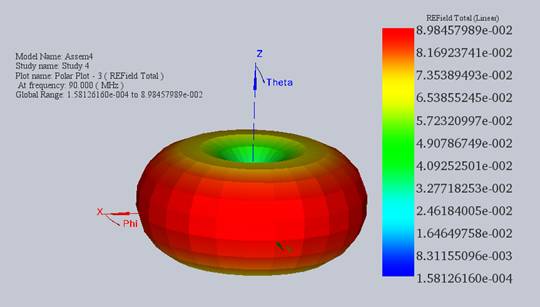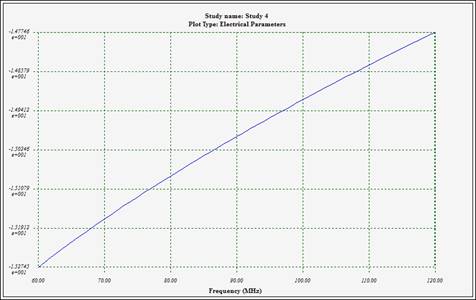 The return loss at the antenna's port is around 15 dB from 60 MHz to 120 MHz which is acceptable and covers the FM frequency bands mentioned in the introduction.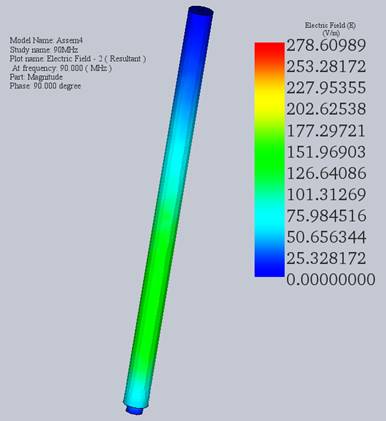 This figure shows the radiation of the electric field at 90 MHz with a phase equal to Pi/2.