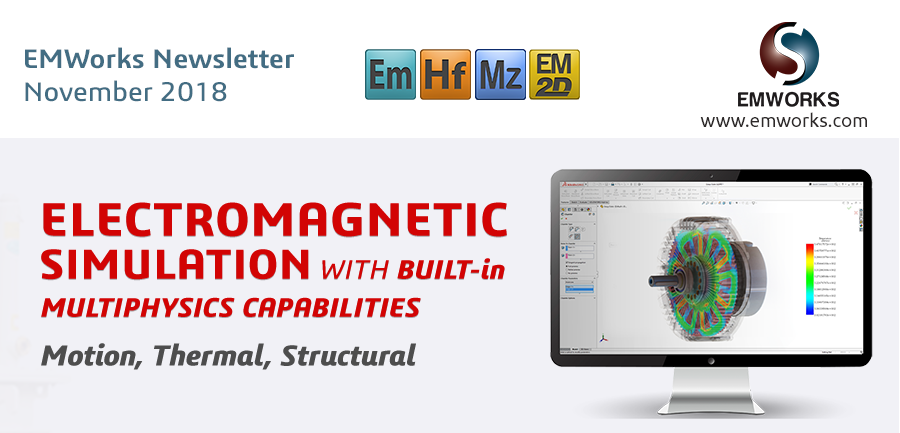 EMWorks Days coming to Europe!
 
 

November 6, 2018
Münster, Germany

 

November 8, 2018
Hannover, Germany

 

November 9, 2018
Royal Leamington Spa, UK
 
 
 
 

November 12, 2018
Praha 10, Czechia

 

November 14, 2018
Paris, France

 
 
 

ASNT Annual Conference 2018

George R Brown Convention Center Houston, TX

Booth #407

Sunday, October 28, 2018

See Details

 

Motor & Drive Systems 2018

Orlando, Florida


Booth #115

Tuesday, January 22, 2019

See Details

 

DesignCon 2019

Santa Clara Convention Center | Santa Clara, CA

Booth #955

Tuesday, January 29, 2019

See Details

A SELF-FILTERING HORN ANTENNA

In this example, we present a self-filtering horn antenna for satellite communications. The antenna uses a WR-62 (15.8 x 7.9) radiator. The self filtering properties are established by the use of a small bi-omega particles placed in the mid-way of the antenna's waveguide. These particles causes the antenna to operate at a very narrow bandwidth around 12.6 GHz. At this frequency band, the antenna shows as much radiation performance as a WR-62 radiator. Figure 1 shows the 3D model of the antenna and its geometrical parameters.

Figure 2 demonstrates a cross section plot of the electric field in the slab. The antenna's return loss has a sharp curve around 12.6 GHz. A fast sweep simulation can give an approximate S11 plot. Figure 3 shows the simulated S11 of an HFWorks discrete sweep frequency plan and the measurement results






Figure 1 - 3D CAD model of the Simulated structure and its dimensions

| | | | |
| --- | --- | --- | --- |
|   | Figure 2 - Cross section plot of the electric plot | Figure 3 - HFWorks and measurement results of the return loss S11 |   |

MAGNETIC COUPLING MACHINE

A magnetic coupling is a coupling that transfers torque from one shaft, but using a magnetic field rather than a physical mechanical connection. The motor considered here consists of permanent magnet arrays in the form of a steel rotor containing 12 permanent magnets and a steel stator with another 12 permanent magnet. The magnets are polarized in an alternating fashion radially inwards and outwards from the axis of the cylinder. The array setup provides linear and rotational coupling from the outer array (stator) to the inner array (rotor).

Figure 4 shows the simulated machine and the magnets direction. The magnetic flux density in the machine is plotted in Figure 5.The computed rotor torque is shown in Figure 6. it represents a sinusoidal shape.



More Applications here

Humanoid Robot Atlas Can Now Do Parkour and That's Not at All Terrifying

(Oct. 11) robotics company Boston Dynamics posted a new video on YouTube showcasing the robot's latest progress, carrying it past its prior agility goals in leaps and bounds — literally.

"Atlas does parkour," Boston Dynamics wrote in the video description. Footage shows Atlas nimbly leaping over a log and skipping between platforms of different heights "without breaking its pace," according to the description. [Robots on the Run! 5 Bots That Can Really Move].
Watch Video
More about Boston Dynamics robots





International Energy Agency predicts wind will dominate Europe's grid by 2027

By 2027, IEA's forecasts (PDF) put wind just beating all other electricity sources with a 23-percent share of the energy mix. "Other Renewables" like biomass plants contribute a little over 20 percent, gas adds 20 percent, nuclear contributes just a little below 20 percent, and coal declines to just over 10 percent. Solar energy contributes about six or seven percent in the IEA's 2027 scenario.







 
 

3 phase high voltage submarine power cables and their impact on marine ecosystem – How EM Simulation can help engineers design eco-friendly power transmission cables