"

The relation with EMWorks2D has been easily accessible because of a quick implementation of our software into SW. CAD-files are transfered easily with an automated "2D simplification"-tool. The function as well as the interface of the Software are intuitive, which allows us to finish simulations autonomously in less than 10 minutes from the CAD file. Whenever we have trouble EMWorks supports within little time to our full satisfaction.

— Denis Frank, Research & Development, Schienle Magnettechnik + Elektronik GmbH
Application Note
STUDY OF 2.4GHZ ANTENNAS FOR WIRELESS WI-FI APPLICATION
The wireless systems cover a large variety of devices in different applications such as: navigation, radars, direct broadcast TV, satellite and mobile communications. For the current study, two models of WI-FI communication antennas will be investigated for the frequency band of 2.4GHz: the Biquad antenna and B-shaped dual loop antenna. Biquad antenna is a kind of loop antenna with a simple design, easy to build and offers a good characteristic of directivity and gain for point to point communications (Figure 1).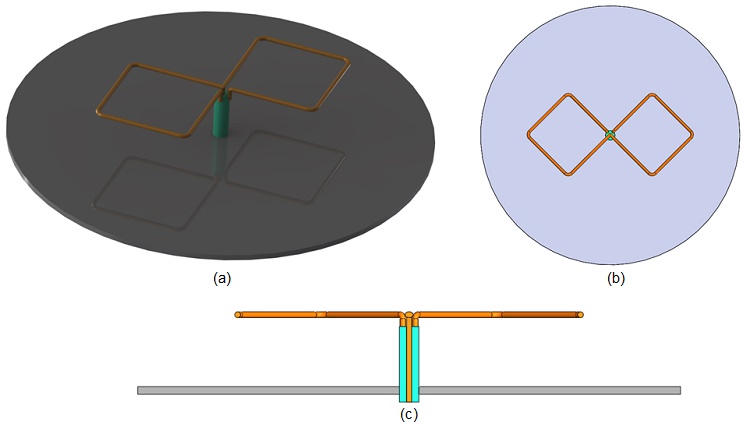 Figure 1 - Biquad antenna (a-3D-design (b-top view and (c- Cross section view
The Antenna solver of HFWorks coupled to thermal module are used to analyze this model for a working frequency of 2.4 GHz. The simulation revealed the next results of Electric and Magnetic field distribution for an excitation power of Pin=1-Watt: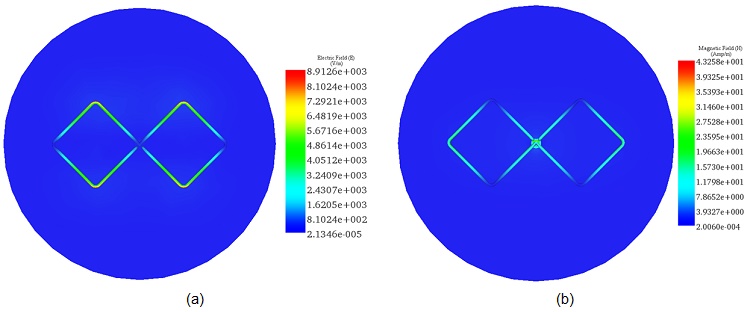 Figure 2 - Fringe plot of (a- E-field and (b-Magnetic field distribution
The next figure is showing the return loss 2D plot results for a range of frequency of [2.3GHz-2.55GHz]. As shown, the center frequency of the filter is around 2.41 GHz with a total bandwidth under 10dB. The Gain radiation pattern results shown by figure 4 confirms the directional criteria of the Biquad antenna in transmitting the most of its transmitted power to the desired direction better than in the other directions.
Figure 3 - Return loss results versus frequency



 

Figure 4 - (a- 3D and (b- 2D Gain pattern results at Phi=0
The thermal behavior is evaluated under an excitation power of 5 W and the temperature distribution is shown in Figure5.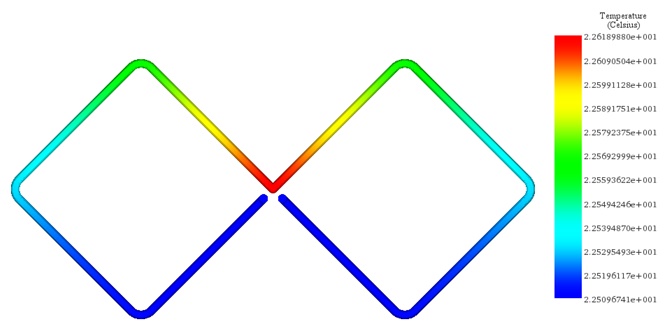 Figure 5 - Temperature distribution across the copper part at 2.4GHz

SCIENCE NEWS

Converting Wi-Fi signals to electricity with new 2D materials

Device made from flexible, inexpensive materials could power large-area electronics, wearables, medical devices, and more.

Imagine a world where smartphones, laptops, wearables, and other electronics are powered without batteries. Researchers have taken a step in that direction, with the first fully flexible device that can convert energy from Wi-Fi signals into electricity that could power electronics.

Image source : Getty/Pixabay
EMWORKS DAYS


 

FREE half-day event on Electromagnetic Simulation inside SOLIDWORKS

California State University, USA
Friday, January 31, 2020 - 8:00 AM – 12:00 PM PST


 

FREE event on Electromagnetic Design inside SOLIDWORKS

Nashville, TN
Thursday, February 13, 2020 - 9:00 AM – 4:00 PM PST
EVENTS
DesignCon 2020
January 28-30 - Santa Clara, California

Visit us at Booth #1153.

3DEXPERIENCE World 2020
February 9-12, 2020 - Nashville, TN

Visit us at Booth #428.

Motor & Drive Systems 2020


February 11-12, 2020 - Orlando, FL

Visit us at Booth #303.